DREAMers to SB1070 architect Kobach: Resign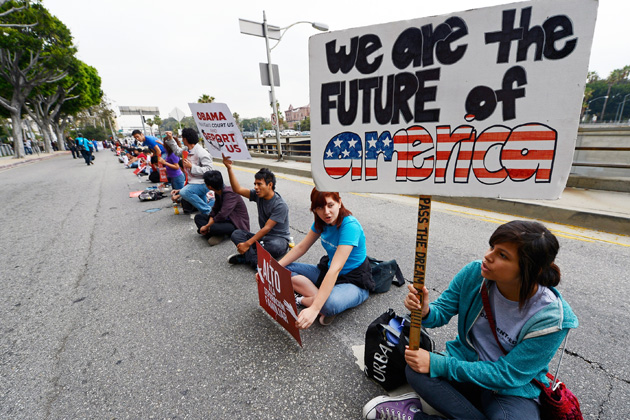 Dreamers from around the country gathered in Topeka, Kansas to protest Kansas Secretary of State Kris Kobach's lawsuit against deferred deportation and ask for his resignation.
TOPEKA, Kan. –Giovanni Diaz, a Dreamer from Georgia, and Victor Perez, a Dreamer from Alabama, were among a group of young undocumented immigrants who traveled to protest in front of Kansas Secretary of State Kris Kobach's offices, asking for his resignation as well as a stop to his work drafting immigration laws such as Arizona's SB1070 and Alabama's HB 56.  The Dreamers are also calling for Kobach to drop a lawsuit against President Obama's deferred action policy.
"We want to deliver a message  - stop the hate and discrimination he [Kobach] has been disseminating," said undocumented student Ernesto de la Rosa, from Kansas.
Kansas "Dreamer" Sulma Arias, executive director of the Wichita, Kansas-based Sunflower Community Action, said the approximately 60 Dreamers went to Kobach's offices to deliver 3 messages to the Kansas Secretary of State, including "stop wasting Kansas taxpayers' money against immigrant families, and to resign from his position, which he has done so ineffectively due to the agenda he has chosen to follow," said Aria.   The students tried to meet with Kobach, but his office said he was too busy.
"HB 56 has direct roots to Kris Kobach," says Alabama Dreamer Victor Perez, referring to his state's immigration law. Perez said it has had devastating effects in Alabama, including families constantly afraid of deportation, and it has had a negative effect on businesses and the state's economy.
Arizona's Erika Andiola, from United We Dream, said Republican presidential candidate Mitt Romney's defeat should be a clear signal to Kobach, who is running again, as well as legislators in her home state of Arizona, that politicians who oppose immigration reform "might not have a future."  Kobach was Mitt Romney's advisor on immigration, and wrote the Republican platform language, which advocated for self-deportation.
The group of Dreamers noted legislators in some states, including Alabama, have expressed an interest in espousing immigration reform. Zulma Arias said even in Kansas, current governor Sam Brownback, who espoused immigration reform while he was in the Senate, has not shared Kobach's views.
Erika Andiola noted Republican legislators like Florida Republican Senator Marco Rubio and House Speaker John Boehner have talked of the  need for immigration reform, and said the group will continue to put pressure on Republican legislators as well as Democrats to pass comprehensive immigration reform.
by Sandra Lilley